TBTB'S 2019 FUNDRAISER CAMPAIGN!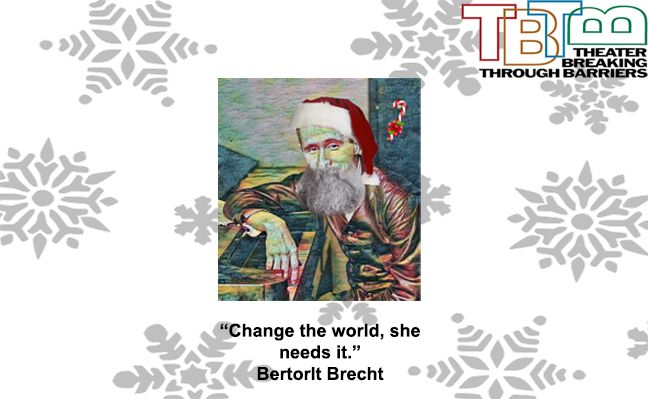 It's that time of year! Happy Holidays Everyone! We can't believe it is our 41st season and we couldn't be happier to celebrate with you!
As a supporter of TBTB, you know we bring high-quality theater to the public while opening the audience's eyes to the artistry that disabled actors, directors, writers, and designers can bring to a production. We also traveled the globe – this year to Geneva, Switzerland, to perform before the United Nations, to Zagreb, Croatia Theater Festival of Blind and Visually Impaired BIT and later in the year we'll travel to Tottori, Japan for the annual Bird Festival. In the spring of 2020, we will present the mainstage production for the year at Theatre Row with a revival of "Brecht on Brecht" by George Tabori, a brilliant revue chronicling the life of Bertolt Brecht through his songs, his poems, his stories, and his plays. Now through the end of the year, we are posting quotes from Bertolt Brecht on to our different social media platforms. Please watch out for them! 
All of this important work costs money! We can't do this without YOU! Your support helps us bring theater and theater education to people in New York and around the world. This holiday season won't you please consider a generous gift? It'll make EVERYONE feel good! Just click on the button below.
Again, Happy Holidays to everyone from our TBTB family!