TBTB's VPI2: Voices from the Great Experiment!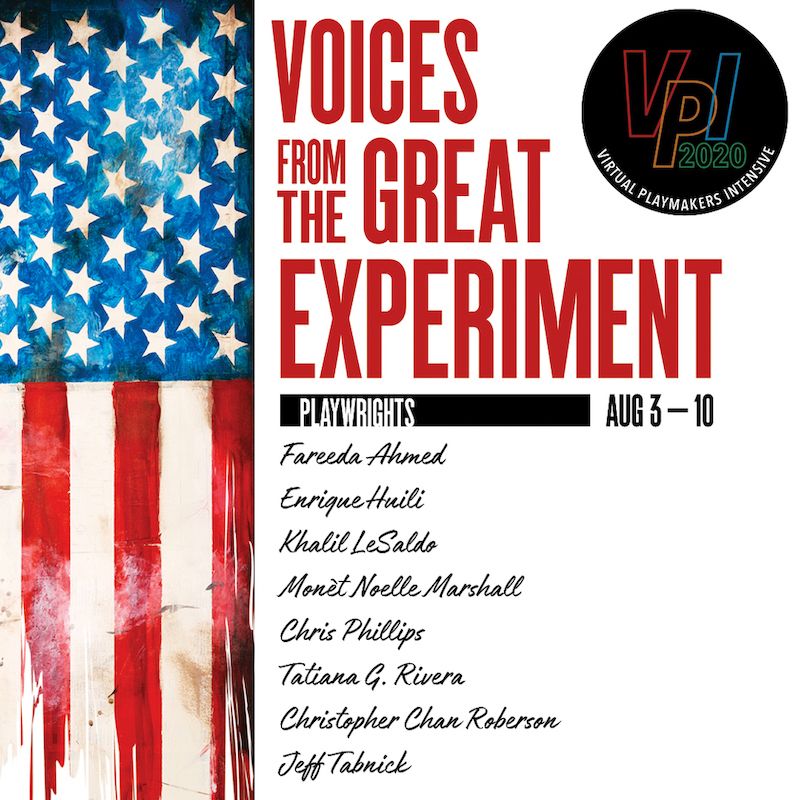 During the week of August 3rd-10th 2020, we had our second Virtual Playmakers' Intensive (TBTB's VPI2: Voices from the Great Experiment!) on YouTube Live at 7:30 pm and then on Facebook Live at 8:15 pm each night. Check out these recordings of the performances below!
Archive Performances!
MONDAY, AUGUST 3, 2020 — CLOUDBUSTING by Chris Phillips. Directed by Stuart Green. Company: Jen Bradley, Richard Lear and Dan Teachout!
TUESDAY, AUGUST 4 2020 — THE OLYMPIANS by Fareeda Ahmed. Directed by Kristin Heckler. Company: Shravan Amin, Samantha Debicki and Paul Pryce!
WEDNESDAY, AUGUST 5 2020— WHAT IF YOU READ MY PLAYS by Jeff Tabnick. Directed by Richard Rose. Company: Alyssa M. Chase, David Harrell!
THURSDAY, AUGUST 6 2020 — (UNTITLED) by Tatiana Rivera. Directed by Everett Quinton. Company: Veronica Cruz, Christopher Imbrosiano, Patrick O'Hare, Estrella, Tamez-Penney!
FRIDAY, AUGUST 7 2020 — 3 GODS ON A ZOOM by Monét Marshall. Directed by Keyanna Alexander. Company: Kalilah Black, Robin Carmon Marshall, AhDream Smith!
SATURDAY, AUGUST 8 2020— 3 STOPS FROM LOOP TAPE STATION by Enrique Huili. Directed by Ashley Scott. Company: Juan Carlos Diaz and Melissa Jennifer Gonzalez!
SUNDAY, AUGUST 9 2020— SING by Khalil LeSaldo. Directed by Ward Nixon. Company: Martin Lewis and AhDream Smith!
MONDAY, AUGUST 10 2020— M-O-U-S-E by Christopher Chan Roberson. Directed by Kimille Howard. Company: Scott Barton, Nayab Hussein, Ayako Ibaraki, Sean Phillips!
To stream our performances from this past workshop and our other content, check us out on Facebook and YouTube, and please follow us on all our social media platforms!