TBTB's VPI5: TIME CAPSULE!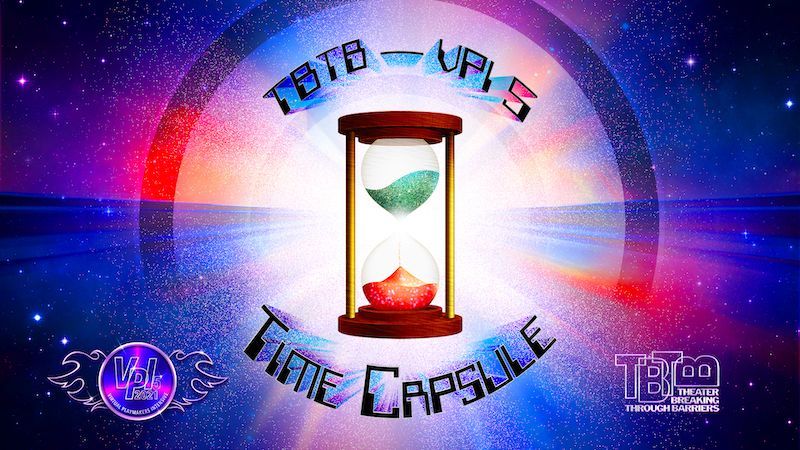 During the weeks of May 31st - June 13th 2021, we had our fifth Virtual Playmakers' Intensive (TBTB's VPI5: TIME CAPSULE) on YouTube Live at 7:30 pm EST with live captions and then on Facebook Live at 8:30 pm EST each night. We had Ann Marie Morelli, Richard M. Rose, Anita Hollander, and Andrea Miskow as the Audio Describers for all of the performances. They described what was going on the screen for people who may need extra visional cues. Check out these recordings of the performances below!
Archive Performances!
Monday, May 31, 2021 OPENING NIGHT — THE MIDDLE-AGED MEN'S ROMANTIC MOVIE CLUB by Kathryn Grant Directed by Kristin Heckler Starring: Ben Rauch, David Harrell, and John Little!
Tuesday, June 1, 2021 — GHOSTS IN THE MACHINE by Fareeda Ahmed Directed by Ashley Wren Collins Starring: Scott Barton, Kalilah Black, Samantha Debicki, and Jennifer Bradley!
Wednesday, June 2, 2021 — SAFETY ON by Monèt Marshall Directed by Ben Rauch Starring: Robin Marshall, Pamela Sabaugh, and Carlos Guillermo!
Thursday, June 3, 2021 — SPOOKY ACTION AT A DISTANCE by Pamela Sabaugh Directed by Richard M. Rose Starring: Nick Walther, Sean Phillips, and Jack Sims!
Friday, June 4, 2021— WHAT GENRE IS THIS RABBIT by Christopher Chan Roberson Directed by Fred Backus Starring: Aya Ibaraki, Patrick J. O'Hare, Davene Stern, and Estrella Tamez!
Saturday, June 5, 2021 — THE BIG REVEAL by Estrella Tamez Directed by Stuart Green Starring: Shashi Bangera, Carlos Guillermo, Courage Bacchus, and AhDream Smith!
Sunday, June 6, 2021 – SOMETHING IS FAR AWAY by Enrique Huili Directed by Eric Nightengale Starring: Shravan Amin, Richard M. Rose, and Jamie Petrone!
Monday, June 7, 2021 — SISTERS, WEYWRD by Rebecca Quinn Robertson Directed by Stephen Drabicki Starring: Gaia Visnar, Carey Cox, and Ann Flanigan!
Tuesday, June 8, 2021 — SOULS HIGHWAY THE GUITAR LESSON by Anita Hollander Directed by David Adam Gill Starring: Bree Klauser, Rebecca Quinn Robertson, and AhDream Smith!
Wednesday, June 9, 2021 – D O G by Juan Carlos Diaz Directed by Kalilah Black Starring: Helen Coxe, Martin Lewis, Dan Teachout, and Xen Theo!
Thursday, June 10, 2021 — PARENT TEACHER by Jerrod Bogard Directed by Tamar Kummel Starring: George Ashiotis, Stuart Green, Kaisa Penney, and Estrella Tamez!
Friday, June 11, 2021 — STRENGTH IN NUMBERS by Cate Allen Directed by Maria Mileaf Starring: Fred Backus, Alyssa H. Chase, Keith Murfee-Deconcini, and Jon Paul Niang!
Saturday, June 12, 2021 — BLANKET TIME, A LOVE STORY by Jeff Tabnick Directed by AhDream Smith Starring: Fareeda Ahmed, Melissa Jennifer Gonzalez, Lori Brown Niang, and Heba Toulan!
Sunday, June 13, 2021 CLOSING NIGHT — DOWNWARD DOGS by Caroline Aaron Directed by Anita Hollander Starring: Richard Lear, and Alyssa H. Chase!
To stream our performances from this past intensive and our other content, check us out on Facebook and YouTube, and please follow us on all our social media platforms!