VPI3: INUNION!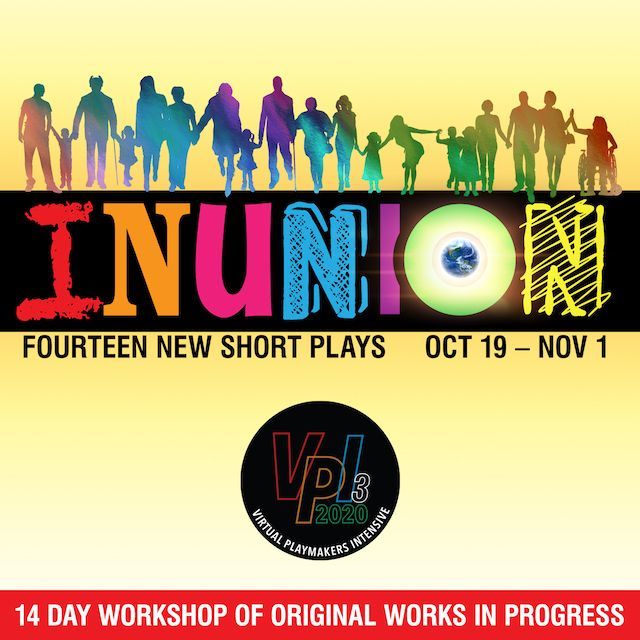 During the weeks of October 19th - November 1st 2020, we had our third Virtual Playmakers' Intensive (TBTB's VPI3: INUNION) on YouTube Live at 7:30 pm with live captions and then on Facebook Live at 8:15 pm each night. Check out these recordings of the performances below!
Archive Performances!
Monday, October 19, 2020 OPENING NIGHT – GAME NIGHT by Khalil LeSaldo Directed by Kimille Howard Starring: Samantha Debicki, Ann Flanigan, Laura Gaona, and Melissa Jennifer Gonzalez!
Tuesday, October 20, 2020 – YOU'VE JUST BEEN TONY'D by Chris Chan-Roberson Directed by Christina Roussos Starring: Jaleesa Graham, Christopher Imbrosiano, and Patrick J. O'Hare!
Wednesday, October 21, 2020 – THE SOUND BENEATH THE SOUND by Jeff Tabnick Directed by Graydon Gund Starring: Lori Brown-Niang, Jordan Feit, Jamie Petrone and Pearl Rhein!
Thursday, October 22, 2020 – RECEPTACLE by Rebecca Quinn Robertson Directed by Nicholas Viselli Starring: Rachel Handler, John Paul Niang, Estrella Tamaz, and Gaia Visnar!
Friday, October 23, 2020 – JAI HO by Kathryn Grant Directed by Keyanna Alexander Starring: Shashi Bangera, Christine Bruno, Alyssa H. Chase, and Jack Sims!
Saturday, October 24, 2020 – THERE ARE TOO MANY OF US (GOVERNMENT TV'S MOST POPULAR MANDATORY GAME SHOW) by Nico Grelli Directed by: Shellen Lubin Starring: Richard Lear, Martin Lewis, and Richard M. Rose!
Sunday, October 25, 2020 – GRAMS by Gwynn MacDonald Directed by Roberto Cambeiro Starring: Carlos Guillermo, Bree Klauser, and Dipti Mehta!
Monday, October 26, 2020 – conSession by Stuart Green Directed by: Ben Rauch Starring: Veronica Cruz, Sean Phillips, Dan Teachout!
Tuesday, October 27, 2020 – YOU CAN'T GET A MAN WITH A GUN by Caroline Aaron Directed by: Kristin Heckler Starring: Scott Barton, Juan Carlos Diaz, Aya Ibaraki!
Wednesday, October 28, 2020 – THE ART OF EXPOSURE by Shellen Lubin Directed by: Kalilah Black Starring: David Harrell, Christopher Hurt, Melanie Portsche, Rebecca Quinn Robertson!
Thursday, October 29, 2020 – FIND YOUR LOVE by Tatiana G. Rivera Directed by: Gwynn MacDonald Starring: Shravan Amin, Robin Marshall, Ben Rauch, Patrick Tombs!
Friday, October 30, 2020 – GOODNIGHT SOMEBODY by Jerrod Bogard Directed by: AhDream Smith Starring: Jennifer Bradley, Sarah Folkins, Ward Nixon, Nick Walther!
Saturday, October 31, 2020 – TEACHER'S PET by Enrique Huili Directed by: Richard M. Rose Starring: Anita Hollander, J. Martin McDonough, Keith Murfee-DeConcini!
Sunday, November 1, 2020 CLOSING NIGHT – PERSEPHONE by Chris Phillips Directed by Ann Marie Morelli Starring: Helen Coxe, John Little, Paul Pryce!
To stream our performances from this past workshop and our other content, check us out on Facebook and YouTube, and please follow us on all our social media platforms!