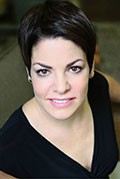 Christine Bruno (AEA/SAG-AFTRA) has worked nationally and internationally as an actor, director, singer, coach and disability advocate. She has an MFA in Acting and Directing from the Actors Studio Masters Program at New School University and is a
lifetime member of the Actors Studio. As a performer and director, Christine has worked throughout the U.S., U.K. and Australia. Her credits include Forgotten Corners of Your Dark, Dark Place (TBTB); The Glass Menagerie (Fulton Opera House); The Good Daughter (NJ Rep); Larry Gets the Call (EAT); The Crucible, A View from the Bridge (Shelton Theatre, San Francisco); Krankenhaus Blues (NYC); the independent feature films Static, This Is Where We Live (SXSW Narrative Competition), One Spring and TV's Law & Order.
In 2011, she completed a run at London's Oval House Theatre and a U.K. tour of the new musical, Raspberry. November 2010 also marked the U.K. premiere of her one-woman show, Screw You, Jimmy Choo!, as part of DaDaFest International 2010 in Liverpool. She served as the 2011 Co-chair of the I AM PWD (www.iampwd.org) global civil rights campaign, the Vice Co-chair of the NY PWD Committee, and is a member of the SAGAFTRA national committee for Performers with Disabilities, the Broadway League Diversity Committee and the AEA EEO Committee. As Disability Advocate for Inclusion in the Arts, Christine has represented the organization across the U.S., U.K. and Australia.