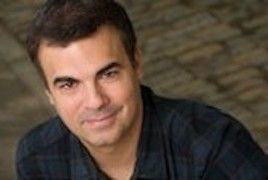 David Harrell is an actor, speaker and disability advocate, originally from Brunswick, Georgia, now residing in New York City. His award-nominated solo play A Little Potato and Hard to Peel and his new adaptation for young audiences The Boy Who Would Be Captain Hook have entertained audiences from New York City to the depths of Southern Georgia--from Off-Broadway houses to the US Department of the Interior. He uses his hysterical comedic sensibilities, powerful stories and a crazy cast of characters from his life's journey growing up with a disability to challenge, entertain and educate audiences to not let circumstances peel away the core of their humanity.
David holds a BFA from the University of Southern Mississippi and a MFA from the University of North Carolina at Greensboro in theatre performance. He was nominated in 2010 for a New York Innovative Theatre award for "Outstanding Solo Performance" and his shows have been selected to the One Man Standing Festival with the Emerging Artists
Theatre, the NJ Disability Pride Parade, the Greensboro Fringe Festival, United Solo Festival, and the All For One Solo Play Festival.
He has performed with TBTB in The Merchant of Venice, Welcome to Wal-Mart in Some of Our Parts and Good Beer in Still More of our Parts. He has worked with The Looking Glass Theatre, The Actors' Studio, Wide Eyed Productions, New York Classical Theatre,
JCC Manhattan, Lincoln Center Outdoors and La Mama here in New York City and in Regional Theatres across the country over the last 15 years. He has also appeared in independent films, web series and the New York City institution Law and Order: SVU.
As a Disability Advocate he has worked as the Accessibility and Outreach Director for the Raleigh Ensemble Players in Raleigh, NC and currently serves as the Disability and Programming Associate for the Alliance for Inclusion in the Arts in New York City.