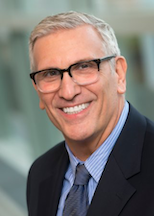 JOHN SPINNATO (Board Member) 
John is a lawyer in the health care industry practicing in New York City, currently with Pfizer as Global Products Counsel.  He rejoined Pfizer after serving as CEO of DKMS US, a not-for-profit focused on finding stem cell and bone marrow donors for patients with blood cancers and disorders.
He previously served as President of the Sanofi Foundation for North America as well as VP of Corporate Social Responsibility for Sanofi NA.  Prior to that, he served as the Vice President and General Counsel of Sanofi NA.  He formerly worked in Paris, France as American Counsel to Total, SA, a French company, Pan Pm World Airways Services subsidiary, as well as the State of Iowa Ombudsman's office.
He is a graduate of Georgetown University Law Center where he received his LLM in International Law and the University of Dayton where he earned both his JD and BA degrees.
John resides in Manhattan with his wife, Rosa.  They have three children.  He is thrilled to serve on the Board of TBTB, combining his commitments to social justice and diversity with his passion for theater.