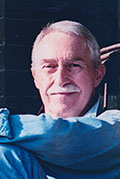 Lawrence Merritt's career as dancer, singer, actor spanned many genres: Eight Broadway shows, TV, film and night clubs, from NO STRINGS, APPLAUSE, PIPPIN and EVITA, to mention a few. TV specials for Kraft Music Hall, Ann-Margret, Anne Bancroft and many Ed Sullivan shows. (live ladies and gentlemen, YIKES!)
Night club acts with Juliet Prowse, Ann-Margret, Raquel Welch's world tour and partnering Ginger Rogers for a year and a half. After a car accident involving a spinal cord injury and learning to walk again, Lawrence discovered his voice in acting, doing many major roles regionally and then for the last thirteen years in New York. Two or three years ago he became involved with Theatre Breaking Through Barriers, doing many
varied readings and appearing in their 2013 ten minute play festival, which was a wonderful experience. His hope is to continue doing good work along this amazing journey.
Resume on request/email lmaranville37@gmail.com (212) 979-9554
Board member Dancers Over Forty