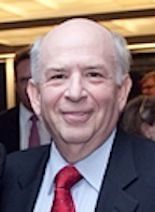 LOUIS M. MORRELL (BOARD TREASURER)
Mr. Morrell has 50 years of management and corporate finance experience in both the corporate and not-for-profit sectors. He regularly consults, pro bono, for not-for-profits on structural, governance, financial and development matters. 
Mr. Morrell is currently on the board and is Treasurer of the Theater Breaking Through Barriers (2016-present), the only Off-Broadway theater, and one of the few professional theaters in the country dedicated to advancing actors, writers, and directors with disabilities. He also for six years chaired the board of Emerging Artists Theatre (2006-2011) and was on the board of the music ensemble, Partita (1992-1995).
In the nature and conservation field, he served nine years on the board and was chair for eight years of the American Birding Association (2008-2017). He currently is the chair of the ABA's governance committee. He also served for six years on the business committee of the Wildlife Conservation Society (1996-2002), its major corporate development and fundraising advisory committee.
For thirteen years, he was on the board of One Stop for Coordinated Senior Services (1990-2013), an organization providing necessary services to senior living in New York's Upper Westside. He was One Stop's President/board chair for 9 years.
Mr. Morrell spent more than 35 years in finance and treasury at JPMorgan Chase and its predecessors (1970-2006) before retiring in 2006 as a Managing Director.  At the firm, he was responsible for the Parent Company function, which included managing parent company and subsidiary capital planning, compliance with regulatory capital requirements and the process governing transactions among affiliated entities. He was also involved in the analysis and negotiating of many of the firm's acquisitions and divestitures. After leaving the bank, Mr. Morrell spent four years on the advisory board of and a consultant for the Regulatory Fundamentals Group (2009-2013), a New York based bank and finance consultancy focusing on governance, regulatory compliance, and supervision. 
Mr. Morrell received an MBA in Finance from the University of Rochester (1970) and a BS in Administrative and Management Science from Carnegie Mellon University (1968).