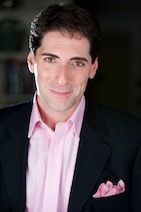 Nicholas Viselli (Artistic Director) joined TBTB in 1997 and is deeply humbled to continue the legacy, started by TBTB's founding Artistic Director, his friend, and mentor, Ike Schambelan.
As an actor, Nick has performed in nearly every TBTB production for the past 18 years. Some of his favorite roles with TBTB include Creon/Laius/Slave in the 2006 production of Ted Hughes's adaptation of Seneca's Oedipus, which the New York Times called "A striking feat of acting"; the title role in the 2006 production of Shakespeare's Hamlet, where NYTheatre.com referred to his performance as "Clear-eyed, straightforward, enormously appealing: A terrific and daring portrayal that enlivens a role that's so familiar" and as Michael Starkwedder in 2015's highly acclaimed production of Agatha Christie's, The Unexpected Guest.
Nick has also directed several plays for TBTB and has served as the company's sound designer, travel coordinator, administrative associate, and Associate Director. He has attended seven International Theater Festivals for the Blind and Visually Impaired in Zagreb, Croatia as an actor and has served as the producer, director, and key coordinator for the company during their festival appearances in 2009 and 2011. In 2013, he orchestrated, developed, produced, and directed two special performances by TBTB, commissioned for the United Nations to commemorate the International Day of Disaster Risk Reduction and The International Day of People With Disabilities. In 2014, he orchestrated and produced TBTB's first visit to Japan, when the company was invited to attend both the BIRD International Theatre Festival and Japan's National Festival for People With Disabilities.
In New York City, Nick has also worked with the Pearl Theater Company, Performers Access Studio, The Oasis Theater, and The Riverside Shakespeare Co. to name a few. He studied at the Royal National Theater in London with Richard Eyre, Patsy Rodenberg, Stephen Daldry, Simon McBurney, Stephen Warbeck, and Sir Ian McKellan and is a graduate of Hofstra University. Nick is married to actress and TBTB core company member, Ann Marie Morelli.