Hey TBTB fans! Please check out Melanie's vlog from her couch! Inspire us, Melanie!
TO OUR TBTB FAMILY AND FRIENDS...
Dearest Friends:
First and foremost, we hope that all of you are safe, healthy and weathering this current storm that we all find ourselves under.
It's hard to believe how suddenly our world has changed.  Within a matter of days we've gone from carrying on with the usual bustle and bluster of our lives to sequestering ourselves with the uncertainties of how long this will last – and what the ultimate toll might be.
Perhaps it's cold comfort to realize that all of us – the entire world – are in this together.  Perhaps it's not yet the appropriate time to optimistically spout that we will get through this.
Yet, in trying to find perspective in an ever-shifting landscape, those two incontrovertible facts remain as fixed points on the horizon before us.
For the time being, however, we must do our best to keep our wits and constitutions about us, not to fall prey to fear and – most importantly – to play it absolutely safe for the benefit of ourselves, our loved ones and everyone around us.
With this in mind, we wish to formally announce that the bulk of our upcoming spring season has been postponed:
-- Our upcoming workshop of the musical, HYDE AND SEEK, which was to be presented next week, March 26-27, at A.R.T./New York's Spaces at 520 will be postponed until further notice.  
-- Our spring production of BRECHT ON BRECHT, which was scheduled to run from April 25 through May 16 at Theatre Five on Theatre Row has also been postponed until next fall.  
While we have not yet cancelled our 3rd annual Playmakers' REDUX, scheduled to take place from June 18 – 21 at the Studio Theatre on Theatre Row, we are holding off on making a final decision until the end of April.
Of course we will keep you posted on any updates or additional changes going forward, but please know that we are deeply grateful for all of the support and encouragement you have given – and continue to give – in our quest to alter the misperceptions surrounding disability in our world today.  We would not be where we are today without you!  
As our community, our city, our country and our world continues to battle through the disability of this global pandemic, it is our hope that we are all able to take stock in what truly matters. Hopefully, we may someday be able to look beyond everything that divides us to see the common threads of humanity that bind us inextricably together.  
Stay safe and healthy and we'll look forward to gathering together with you all very, very soon!
---
#HappyWorldTheatreDay!
---
COMING SOON: BRECHT ON BRECHT!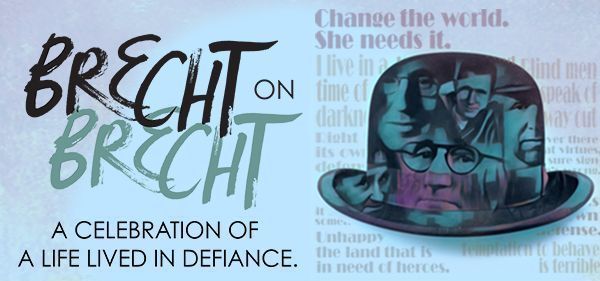 ---
Meet Theater Breaking Through Barriers!
TBTB, Theater Breaking Through Barriers, is the only Off-Broadway theater, and one of the few professional theaters in the country, dedicated to advancing writers, actors, directors, designers, technicians and administrators with disabilities and changing the image of people with disabilities.